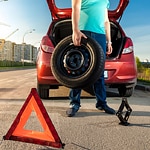 A matching full-size spare is more aesthetically pleasing and prevents the need from automatically having to go to a tire repair shop. The vehicle must be equipped to store a full-size tire. The spare should also be included in the rotation cycle to provide even wear.
A full-size spare does not have to match the rest of the tires. It might also have a different wheel design. While the tire is handy should a flat occur, the spare should not be part of tire rotation cycles. Just make sure the vehicle capably stores a full-size spare.
Many vehicles come with compact temporary tires known as donuts. The tire and wheel are visibly smaller than the rest of the vehicle's tires. They can only be driven for a designated number of miles and at limited speeds. Thus, the flat must be repaired or replaced as soon as possible. Our MINI of Portland technicians are able to handle all tire repair and replacement needs.