THE MINI FALL SERVICE EVENT. EXPLORE CONFIDENTLY.
SPECIAL FALL SAVINGS: THE PERFECT PLACE TO START.
ONLY AT YOUR AUTHORIZED MINI DEALER FROM AUGUST 21 - OCTOBER 31, 2017.
It's time. A season of great drives begins at Northwest MINI with savings on expert service performed by MINI Trained Technicians using MINI Original Parts and approved equipment. You'll also find deals on MINI Original Accessories and the MINI Lifestyle Collection. Contact MINI of Portland at 888-746-9316 or schedule an appointment.
SAVE UP TO $50 OFF YOUR  NEXT SERVICE VISIT.
Spend $50 or more and receive $25 off  via mail-in rebate, or spend $200 or more  and receive $50 off via mail-in rebate.
SCHEDULE SERVICE
---
    15% OFF MAIL-IN REBATE ON SELECT WHEEL AND TIRE SETS.
Accessory Rebate: Save on select tires
15% off mail-in rebate when you purchase select MINI Approved Wheel and Tire Sets.* Set included four tires and four rims.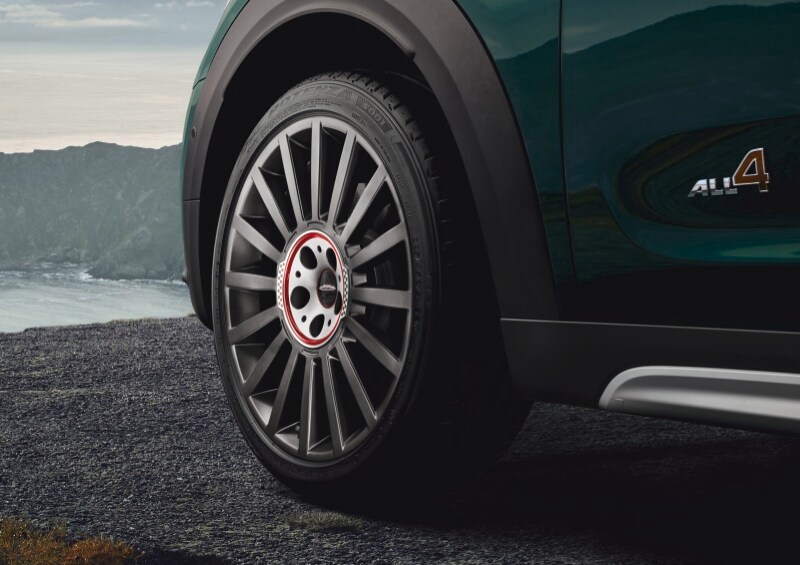 ---
*MINI ACCESSORY WHEELS THAT ARE INSTALLED ON/IN THE VEHICLE PRIOR TO THE DELIVERY TO THE CLIENT WILL CARRY THE FULL NEW VEHICLE LIMITED WARRANTY. IF THE INSTALLATION IS MADE BY A DEALER AFTER THE RETAIL SALE OF THE VEHICLE, THE ACCESSORY WILL CARRY THE REMAINDER OF THE NEW VEHICLE/SAV LIMITED WARRANTY PERIOD OR THE LIMITED PARTS WARRANTY FOR TWO YEARS FROM THE DATE OF INSTALLATION, WHICHEVER IS GREATER. WARRANTY REPAIRS DO NOT CONSTITUTE AN EXTENSION OF THE ORIGINAL LIMITED WARRANTY PERIOD FOR THE VEHICLE OR ANY PARTS (INCLUDING ACCESSORIES) THEREOF. ALL TIRES ARE MANUFACTURED BY THIRD PARTIES AND ARE COVERED BY THE LIMITED WARRANTY OF THE SPECIFIC TIRE MANUFACTURER. PLEASE SEE AN AUTHORIZED MINI DEALER FOR INFORMATION ABOUT SPECIFIC TIRES AND THE TIRE MANUFACTURERS' LIMITED WARRANTY. PLEASE SEE AN AUTHORIZED MINI DEALER OR THE WARRANTY INFORMATION INCLUDED WITH YOUR NEW VEHICLE FOR MORE INFORMATION. ALL WHEELS FEATURE RUN-FLAT TIRES. FOR MORE INFORMATION ABOUT RUN-FLAT TECHNOLOGY, PLEASE REFER TO YOUR SPECIFIC VEHICLE'S OWNER'S MANUAL. DRIVING OVER ROUGH OR DAMAGED ROAD SURFACES, AS WELL AS DEBRIS, CURBS AND OTHER OBSTACLES CAN CAUSE SERIOUS DAMAGE TO WHEELS, TIRES AND SUSPENSION PARTS. THIS IS MORE LIKELY TO OCCUR WITH LOW-PROFILE TIRES, WHICH PROVIDE LESS CUSHIONING BETWEEN THE WHEEL AND THE ROAD. BE CAREFUL TO AVOID ROAD HAZARDS AND REDUCE YOUR SPEED, ESPECIALLY IF YOUR VEHICLE IS EQUIPPED WITH LOW-PROFILE TIRES. PERFORMANCE TIRES MAY WEAR FASTER DEPENDING ON DRIVING STYLE AND DRIVING CONDITIONS AND MAY ALSO BE MORE COSTLY TO REPLACE THAN NON-PERFORMANCE TIRES OF THE SAME SIZE. FOR MORE INFORMATION, PLEASE REFER TO THE TIRE MANUFACTURER'S WARRANTY MANUAL PROVIDED WITH THE VEHICLE. © 2017 MINI USA, A DIVISION OF BMW OF NORTH AMERICA, LLC.  THE MINI NAME, MODEL NAMES AND LOGO ARE REGISTERED TRADEMARKS. 
 ALL RIGHTS RESERVED.